Before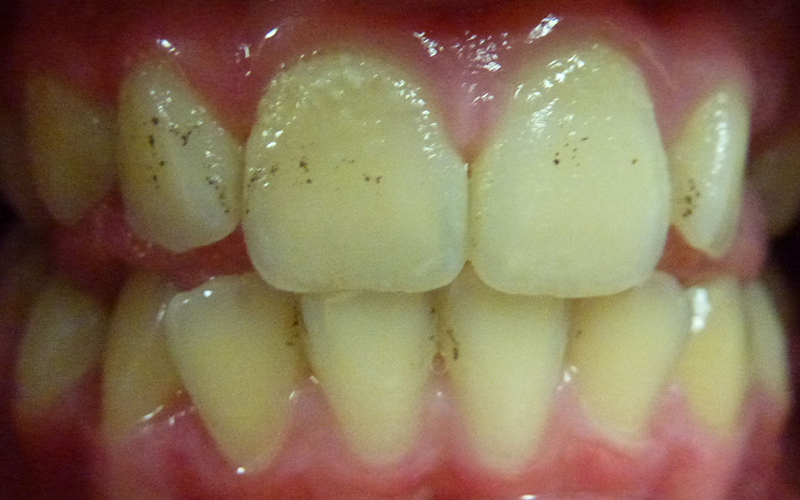 10 year old boy with plaque and staining on teeth (plaque is tooth coloured and can be difficult to see).
Disclosing Tablets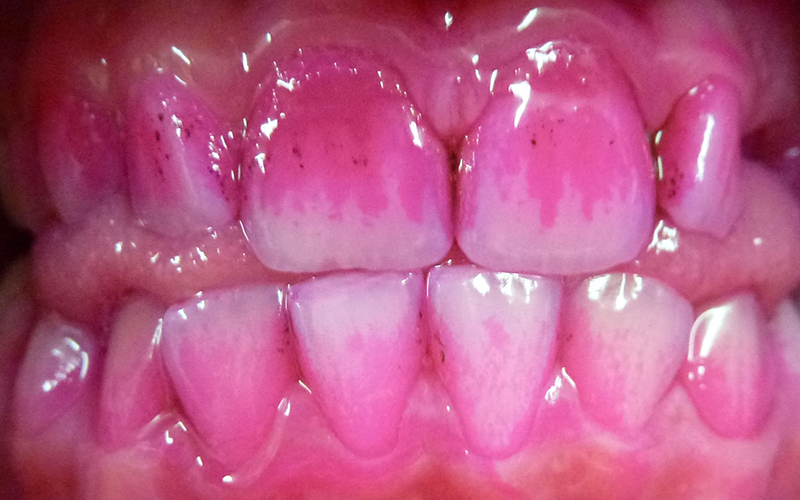 Disclosing tablets / solution shows the plaque missed at brushing.
After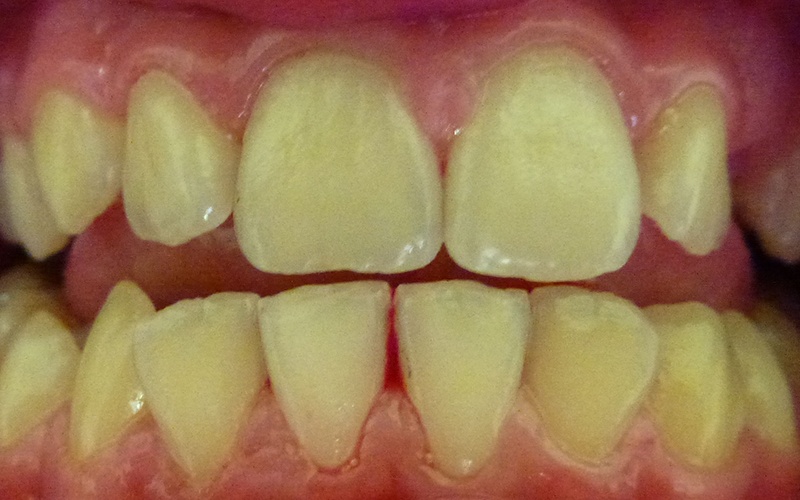 Plaque and stains removed by Dentist.
---
Before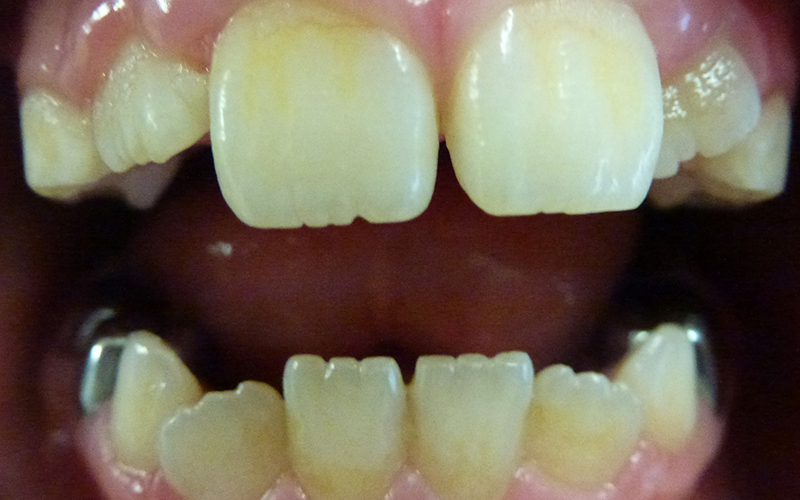 8 year old girl with yellow staining at gum lines.
After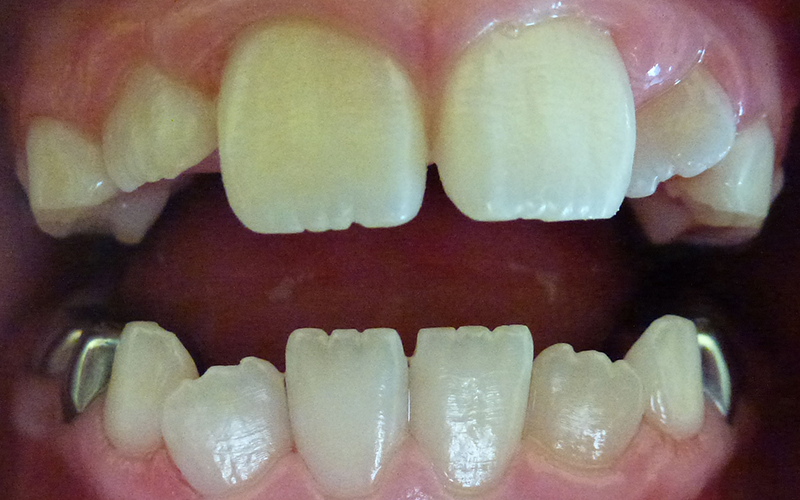 Stains removed by Dentist.
---
Before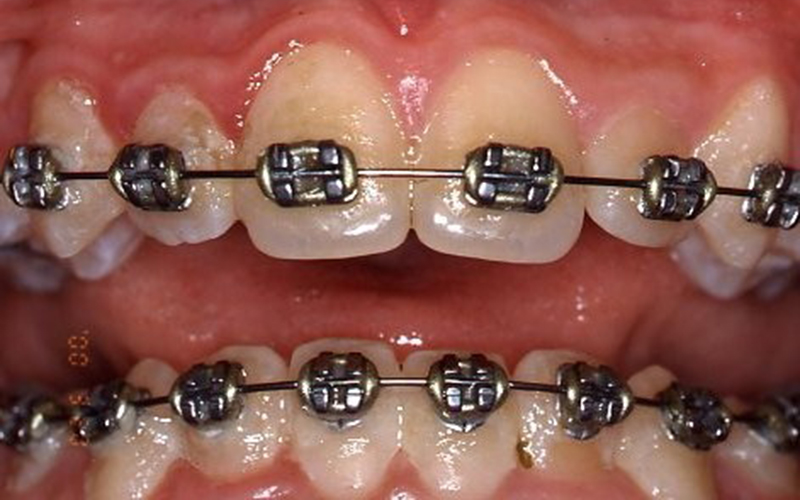 12 year old girl with orthodontic appliances (braces). She thinks her teeth are clean but there is a lot of plaque present.
Disclosing Tablets
Disclosing tablets and directions for use.
Disclosing Tablets Show Plaque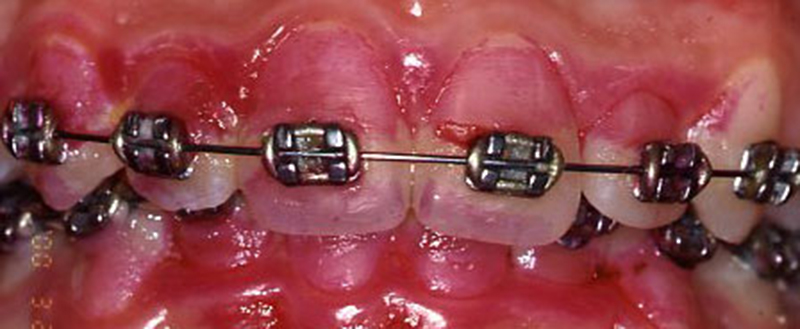 Disclosing tablets / solution shows plaque very clearly. Easier for her to clean the teeth properly now.
Cleaning Children's Teeth
How do I clean my child's teeth?
Brushing – Teeth should be brushed twice a day after breakfast and last thing before bed – No food or drink after.
We recommend that an adult should brush their child's teeth until they are 7-8 years of age. We find it best if a parent uses a dry brush first, cleaning teeth and gum lines – in this way parents can clearly see what they are doing without bubbles/froth hindering their view. After dry brushing, put a small (pea size) amount of fluoridated toothpaste on the brush and let your child finish the cleaning – if they are willing and able.
From 7-8 years upwards children can brush with supervision from a parent or caregiver.
Type of Toothbrush – Proper technique is as important as the toothbrush you use. There are two types of toothbrush, electric and manual. For children all brushes should be soft bristled and small in size. We encourage children to bring in their own toothbrushes so that we can show parents and children how to brush teeth properly. We give all children a new suitable toothbrush at their first visit.
Remember: change toothbrushes approximately every 2 months or when the bristles become splayed.
What toothpaste should my child use?
Most major brands of toothpaste are equally good. The active ingredient in toothpaste is fluoride which is very important in strengthening enamel (hard outer surface) of teeth making them more resistant to tooth decay.
0 – 2 years
Smear of Fluoride toothpaste – (we will advise)
2 – 6 years
1000 ppm Fluoride – (pea size)
Spit excess paste out – don't rinse with water after
6 years +
1450 ppm Fluoride – (Pea size)
(ppmF = parts per million Fluoride)
Spit excess paste out – don't rinse with water after
My child does not like the taste of toothpaste??
A number of children find the taste of some toothpastes too "strong" and this can hinder their cooperation for tooth brushing. We can advise you of pleasantly flavoured alternatives or flavourless toothpaste, such as oraNurse® – which also work well.
oraNurse® is an unflavoured toothpaste specially formulated for people sensitive to strong flavours. It has 1450ppm fluoride and is SLS free (non-foaming). For more information, go to www.sensationalkids.ie
We recommend that an adult should "dry brush" their child's teeth first – this removes most of the plaque – then your child can brush briefly again with a small amount of fluoridated toothpaste.
My child will not let me brush their teeth. What do I do?
We think tooth brushing is not negotiable, like sitting in a car seat, or not running into the street. Because your child doesn't understand the long-term consequences of not brushing, it is your job to make sure it happens. Here are some ways to help encourage good brushing:
Children love to do what the grown-ups are doing. Brush your teeth at the same time, and make it a game getting all the spots in the back!
Dry brush your child's teeth first then let them finish brushing with a small amount of fluoride toothpaste.
Rewards: Offer bonuses like stickers on a calendar, an extra bedtime story, or whatever reward works for your child.
Regardless of the method, make tooth cleaning part of your daily routine. Begin when your child is young (approx. 6 months). It is important to realise that tooth brushing is more than a daily chore to get through. It is an opportunity to share, and have fun with your child. If you view it that way, so will they. If these tactics don't help, make an appointment to see Dr. Daly and she can show you some simple techniques that can help!
There are downloadable "Motivation" brushing charts on-line or we will give you one when you come to visit us.
Flossing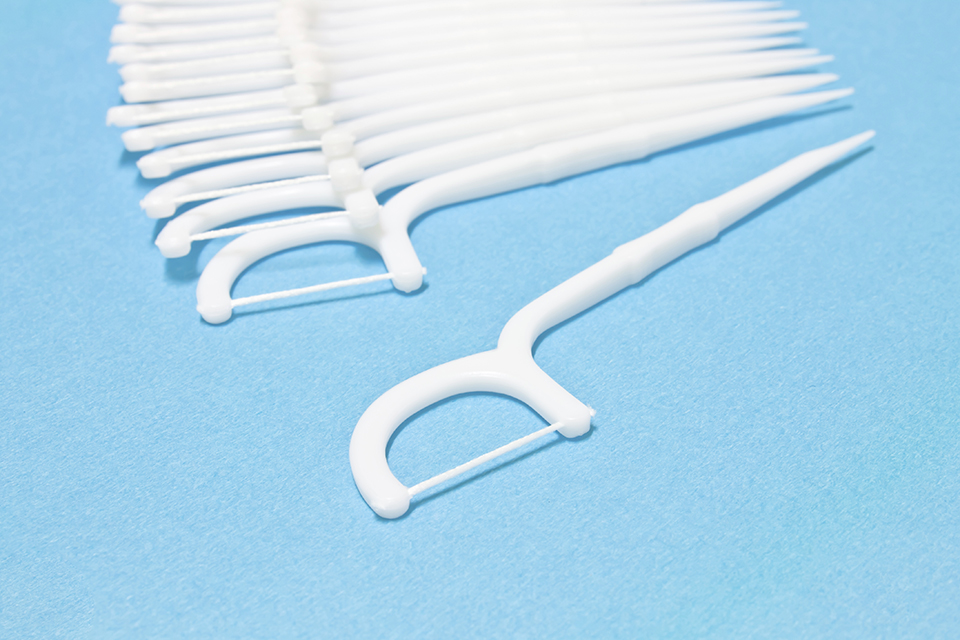 Flossing allows you to clean between teeth where tooth brushing cannot reach. This greatly reduces the risk of tooth decay by removing plaque and debris. When teeth touch tightly together flossing is needed. It is best for adults to floss their child's teeth once a day – night time is usually the most convenient.
There are a number of flossing gadgets available that make this job easy – we can advise you and give you samples.
"You only need to floss the teeth you want to keep!"
Flouride
What does fluoride do?
Fluoride strengthens enamel (hard outer surface of teeth) – and makes it more resistant to tooth decay. It works by repairing
acid-damaged enamel by re-mineralising it from saliva.
Optimal exposure to fluoride for your children:
In drinking water
In Toothpaste
In Daily Mouth Rinses
1 ppmF
500 – 1450 ppmF
225 ppmF
(ppmF = parts per million Fluoride)
Professionally applied gels, foams and varnishes
Slow release fluoride devices