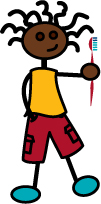 Dympna set up her Dental Practice limited to Paediatric Dentistry in the centre of Galway city in 1990. It is one of the longest established Paediatric Dental Practices in Ireland.
Together with Rosa in the office and Kym, the dental nurse, we offer a comprehensive range of dental services for "tots to teens and in betweens!"
Between us we have almost 50 years of dental experience which we are happy to share with you.